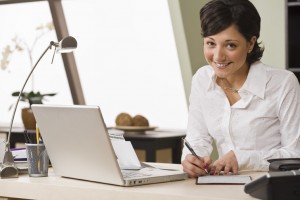 By now, most of you are probably aware that over time your PC's registry gets full of junk information – which in turn slows down your PC, affects its operability and all in all makes PC Performance Optimization a critical piece to managing your productivity and PC sanity!
What you may not have known is that Microsoft themselves suggest you perform a complete PC Tune Up every 3 months. While you can get yourself into the weeds with do it yourself information on using features within Windows 7 such as those found in this blog post; there are also a number of services out there that will take this burden off of your shoulders. Let's take a look at what these PC Performance Optimization services/tools should include to ensure you get the best bang for your buck.
Deep Dive Anti-Virus, Anti-Malware and Ant-Spyware Scan
With most popular anti-virus software, you run the risk of the application and its virus definitions (the information that tells the software what to look for) becoming corrupt themselves and thus missing major infections during routine scans. It is very important for whatever PC Optimization service you use that it include standalone anti-virus, anti-malware and anti-spyware scan tool(s) – these tools should install and uninstall during the tune up job in order to keep everything segregated and secure!
We happen to use different tools for each of these steps within our own PC Optimization Service, and are always swapping out/upgrading each tool to make sure our PC Tune ups stay ahead of the curve.
Registry and Hard Drive Optimization
While there are a number of 'free' tools out there. It is of utmost importance that whatever PC Performance optimization tool you use that is also include a top notch registry cleaning feature. Our opinion is that any tune up that claims to have  both proprietary registry cleaning functionality + proprietary PC security software built into their offering, probably means that one of the two, or sometimes both function very well.
This is why with our Registry and Hard Drive Optimization Tune ups we again bring in various tools to clean various parts of the registry and hard drive to ensure the entire job is completed to industry best practice standards. We feel that using third party tools to supplement the process is the only sure fire way to stay on top of the latest developments, and achieve the best possibly cleaning.
Words of wisdom: Be cautious of any solution that claims to be everything for everyone using their own custom tools. There is a reason why companies like McAfee focus solely on anti-virus, and partner with other organizations for anything outside of that realm. It's a really, really big job!
Personal Attention over complete Automation
More and more we are seeing completely automated tools marketed as the one stop shop for all of your PC support needs. To be frank, at this stage it is impossible to replace the creative troubleshooting, and analytical ability of a well trained technician. 10 years from now might very well be a different story.
However, for the time being, please make sure that whatever tool you choose includes at least partial intervention from a technician in the form of Online or Remote PC Tech Support via Phone and/or Chat.
We have chosen to build these processes in with our PC Tune Up services, and require our technicians to monitor every tune ups progress as it happens via alerts (in doing it this way a handful of tech's can monitor, and intervene with literally hundreds of tune ups at a time). After each tune up is marked complete, our technicians receive a notification asking them to analyse the results and suggest upgrades, grade your PC usage behaviour and provide a multitude of other tips and tricks for each customer all in the form of our Monthly PC Tune Up Report (an example of which is shown below)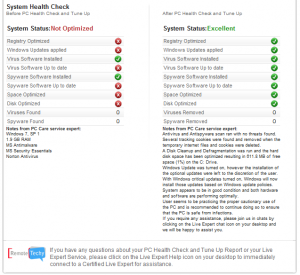 Best of luck in finding a suitable PC Support and Optimization solution. If there is anything we can do to help, please tweet us @remotetechys or into our team anytime!